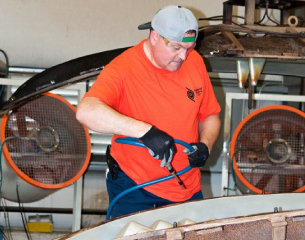 Rotational Molding is an extremely versatile process that produces a hollow product of all shapes and sizes. Rotational molding is an ideal process for large and small, complex and simple, and high or low volume type products. Commonly rotationally molded products include liquid storage tanks, barrels, kayaks, garbage containers, traffic barriers, shipping containers, pallets, trays, machinery parts and covers, and much more. Please watch this short video to learn how this process can be used to make your product a reality.
Advantages
Extremely versatile in shape, size, and features
Low tooling costs
Very strong, impact and UV resistant products
Variety of colors and options
Economical for a broad range of products: large and small, high or low volumes
Rotational Molding of Utah has been helping customers design, develop, and produce an array of custom rotationally molded products since 1992. We have all the expertise and experience necessary to make your project a success. With over 50,000 square feet of manufacturing space, the flexibility of 8 rotomolding machines, and up to 13 feet in rotation capabilities, we can ensure that you will receive top quality products in a very timely manner.
For more information on how we can fulfill your custom rotational molding needs, please contact us today!